Career
Working in a stimulating environment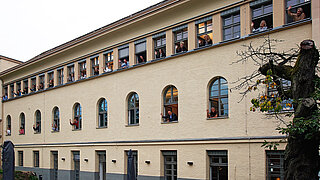 We offer our staff not only an exciting working environment but also the best prospects for a successful future.
ToyAcademy & personal further training
Our declared goal is to advance our events and, above all, our team. That is why we are committed to the personal and professional training of our employees. This ranges from in-house training courses to deepen existing knowledge and external seminars, in which we expand our specialist knowledge, to visits to other trade fairs, where we gather ideas for future events.
The ToyAcademy also offers all employees an exciting insight into the industry and the world of trade fairs. Be it a visit to one of our exhibition stand builders, fascinating insights into toy safety testing procedures or an interesting lecture on trends from the toy industry.
Team spirit & shared experiences
Whilst employee development is a matter of great importance to us, personal interaction and good staff cohesion are also close to our hearts. Spielwarenmesse eG fosters a good working environment all year round and makes a point of giving something back to its employees.
In summer, we invite all staff, helpers and service providers, who have actively supported us in the planning and implementation of our events, to a big party.
And once a year, we pack our suitcases and backpacks and head off to maybe Cologne, Bad Reichenhall, Leipzig, Passau or Würzburg. In addition to interesting city tours, the company outing, which lasts several days, offers a wonderful basis for creating shared experiences.
The B2Run company run and the preparatory training are also an integral part of our company events. While some of our employees put on their running shoes, others will cheer the competitors from the sidelines and at the finish line in the Max Morlock Stadium.
Personal well-being
We also attach great importance to promoting health and prevention. Every month, for example, we offer low-cost in-house massages.
In addition, we provide our employees with free drinks and lunch twice a week as well as during the peak phase leading up to the trade fair. Those who travel to work by car benefit from our free company parking. Those who travel to work on public transport receive a subsidy.